Article: The New Cult Fave Accessory: The Visor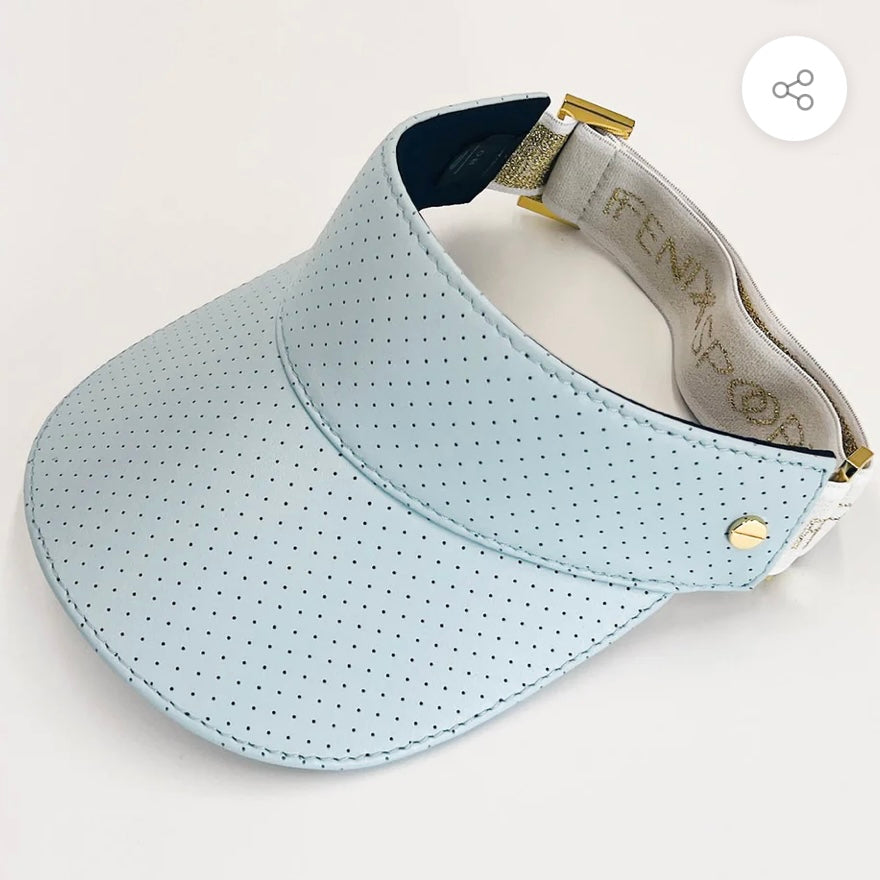 The New Cult Fave Accessory: The Visor
Once reserved for the tennis courts and golf course, the visor hat has recently been kicked up a few notches and now a staple in many designer labels' collections, as it's loved by all for its practical and stylish design. Hence, the huge popularity of FENIX SPORTIER's sell-out leather visor.
Visors are convenient (easy to pack + carry), comfortable (lightweight, breathable + flattering (no "hat hair") and give us the perfect level of sun protection.  So truly the must-have summer accessory for beach + everyday play, sport + resort.
Design Inspiration:
Noticing that there wasn't a chic, designer visor that could actually play in both the world's of "sport performance" and "luxury" or "fashion," our founder designed a leather visor (called "The Visor"), which has the brand's luxury, signature-perforated leather on the exterior and performance dri-weave material (same as Nike Dri-Fit) on the interior.
The Visor was designed with many must-have elements in mind and launched after our Founder/Designer Lauren wear-tested a prototype for nearly a year, including the hot California summer and fall.  She jammed it in suitcases for many trips, logged hundreds of jogging and tennis miles in it, and splashed ocean and pool water on it.  She threw it around in her car and on the court, gave it a few sample "handwashes" and then realized it was quite literally the perfect visor and she needed it herself in at least 5 colors!
Our founder wear-testing one of the first visor prototypes on a 5-mile run.
Even after a few years of wear, Lauren still lovingly wears her original white leather visor and it looks nearly new. So as we like to say "it's very worth it"… kinda like that perfect yoga pant or panty that you realize you need x3. Fun brand stat: 67% of shoppers who buy one FENIX SPORTIER visor end up buying a second (in another color, or one as a gift, etc.)
If you know and love a visor hat, you'll appreciate these design considerations:
Perfect Fit:
So many visors are designed for a man's head and are too large.  This makes them likely to "bunch" in the front and not flatter or form to the forehead and simultaneously leave a few inches of dangling/extra Velcro in the back.
Our design fix to this: A custom, soft strap made of the finest Italian elastic with an adjustable slider for universal fit and comfort. And no Velcro = no ripped out hair.
Style + Performance:
FENIX SPORTIER'S The Visor is a fashion statement on the outside and performance on the inside.  The exterior is soft yet durable Italian leather that is perforated in the brand's dot signature pattern.  Adorned with gorgeous hardware – all custom-made in a French workshop – The Visor looks luxe and elevated so it's as perfectly suited for a day on the yacht or brunch with girlfriends as it is in on the court and course. As Lauren says, "I truly think it makes everyone look pretty."
Inside, the Visor is lined with dri-weave sport performance material so it can wick away sweat and keep you well-ventilated.  We have Visor devotees in California, Florida and Texas and haven't heard once that the visor is too hot. (In fact, by design, all visor hats are much cooler than other styles as they're more ventilated).
More Details We Love:
We love the look of a crisp white visor, but we don't love makeup and sweat stains on the white interior sweatbands. The solve: we designed

all our interior sweatbands to be dark navy or black

(depending on exterior color) so when you take off your visor, there isn't an obvious (and sometimes embarrassing) mark.
Ever wear your visor for a few hours and then experience a big indented line across your forehead for the rest of the day? First, we designed the visor with extra padding in the forehead for comfort and to avoid that unsightly line that never seems to go away. And, by the construction/engineering of the elastic – which keeps the visor on without having to be super tight – you'll avoid that.
Lastly, yes, it's

washable

. Simply use a gently, foaming cleanser to wash the interior sweatband and interior brim and then hang dry. For exterior, it usually wipes clean with a moistened towel but for extreme stains on white leather, you can try a magic eraser sheet.